All children need to learn how to form the alphabet in order to learn to write and their sounds in order to read. Finding curriculum to teach that is easy, but what if I told you that now you can purchase a curriculum that teaches writing while focusing on scripture. I'm so excited to see that this is available and how amazingly it is put together. I look forward to sharing this curriculum with you and also the bonuses that you can get if you purchase it now, during the launch, and through March 27th, 2015.
How to Teach Writing While Focusing on Scripture
It is important for your child to learn the correct formation of the alphabet and their sounds, but it is also important to take advantage of the strong memorization abilities of younger children by introducing scriptures.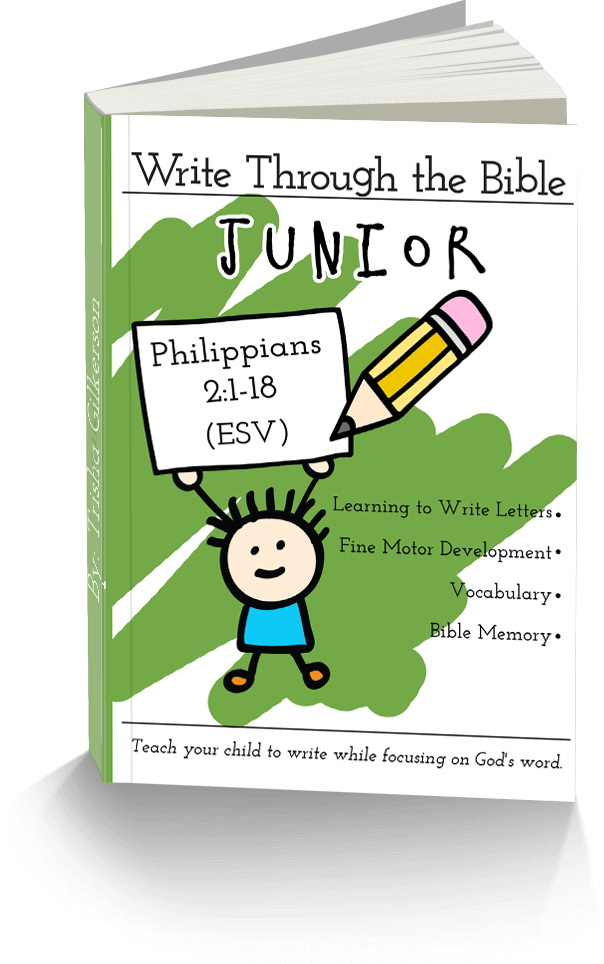 Write Through the Bible: Junior does just that and in a way that your children 4-6 will absolutely love!
I will be using this curriculum when our youngest officially starts homeschooling, even though he can already write most of his letters and even loves to copy words. I want him to be able to work on his formation and phonics more, as we move into learning to read and practicing early spelling, however the addition of the scripture focus is what has sold me on this curriculum verses the other. Well, I also love the hands-on activities because they are the types of activities that he already loves to do, so learning will be easy for him because of the element of fun attached to the curriculum. 
Here is how the curriculum is set up for you to simply walk through the curriculum with your child:
It includes 31 weeks of lessons
It is structured for 4 days weeks
Each daily lesson includes: memory work, talk about the verse for vocabulary purposes, practice, activity and prayer
Short lessons with hands-on activities that children will love and look forward to the next one
Pages that include eye-catching graphics
Would you like to get a sample of the FIRST WEEK of lessons to get a feel for what you can expect in this 420+ page book that is available in ebook or paperback?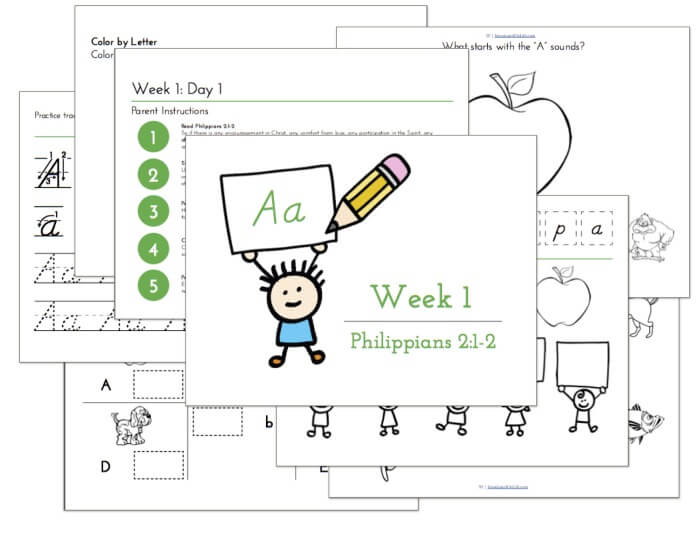 Options…
Write Through the Bible, Junior is available in a variety of options.
Formats
Bible Translations
Fonts
In addition, this full-year program is very affordable costing just $17 for the digital download or $27 for the softcover book.
We are using the consumable paperback book and my little guy can't wait to get started!
After purchasing your digital download or softcover book on Amazon, please fill out this short form located on the SALES PAGE, where you will then be redirected to a page where you can download your bonus offers.